(Fox Searchlight/Palace)
Director: Miguel Arteta
Stars: Douglas Spain, Efrain Figueroa, Kandeyce Jorden, Martha Velez, Lysa Flores, Annette Murphy, Robin Thomas, Vincent Chandler.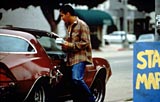 In his striking feature film debut, writer/director Miguel Arteta captures the sleazier side of the city of angels. Aspiring young stars succumb to temptation and sell their souls, and even their bodies, just for a sniff of an opportunity at fame and fortune. Star Maps is a somewhat depressing and far from glamorous depiction of the life of Mexican immigrants, who leave behind a life of poverty and hardship for the chance of making a new life in America, the land of hope and opportunity.
Star Maps explores the unpleasant reality of the immigrant experience of modern America, mainly through the eyes of its youthful protagonist Carlos (played by newcomer Douglas Spain), a naive but not so innocent Mexican youth who comes to Hollywood to pursue his dream of becoming an actor. Instead, he finds himself forced to work for his tyrannical father Pepe (Efrain Figueroa), who runs a stable of teenage hustlers who sell maps to the stars' homes, as well as other more personal services, on the street corners of LA. Ironically, this is as close as most of these boys will get to fulfilling their elusive dreams of fame and stardom.
Pepe promises to help Carlos pursue his dream of becoming an actor, although he has no intention of honouring his promise. When Carlos meets the beautiful actress Jennifer (Kandeyce Jorden), the star of a popular tv soap, he seems on the verge of getting his big break, until Pepe threatens to destroy his dream. Pepe's poison has infected all his family, and he brutally and systematically crushes their own dreams and aspirations. There is an air of sadness underlying the tale of Carlos' dysfunctional family, and the audience is keenly aware of how the past generation's actions have shaped the next in an unrelenting cycle of despair, desperation and poverty.
Carlos' mother (Martha Velez) has suffered a nervous breakdown and is unable to protect him from Pepe's malevolent influence. His sister Maria (singer Lysa Flores) has suspended many of her own ambitions in order to care for her and hold the family together. The overbearing and volatile Pepe threatens to destroy Maria's romance with an earnest and honest young chemist. Carlos' older brother Jauncito (Vincent Chandler) has become withdrawn and exists in a strange world of his own, unable to cope with the harsh reality around him.
Arteta draws strong performances from his largely unknown cast, many of whom are making their film debuts here. Figueroa, the veteran of the cast, delivers a quite powerful performance as the repellent, selfish and arrogant patriarch, willing to prostitute his own sons so that he can make a comfortable living. His unattractive and brutal characterisation certainly ensures that the audience feels no sympathy for him whatsoever as he corrupts the American dream. However, the audience does identify with the plight of Carlos, due largely to the sympathetic and honest performance from Spain, who captures that hardness and drive that allows him to overcome his disappointments. In her film debut, Flores establishes a fiery and passionate presence as Maria.
Flores also collaborated closely with Arteta in compiling the film's atmospheric soundtrack, predominantly featuring Latin American and Mexican music, which perfectly complements its worthy themes about being true to your dreams and ambitions.
Star Maps is not a particularly enjoyable film, and, at times, is downright sleazy and uncomfortable. However, this quite powerful and confronting drama has an urgency that makes for often compelling viewing.
***
At the Trak from January 15.
©Greg King January 1998 Melbourne Australia