Reviewed by GREG KING
Director: Jean-Marc Vallee
Stars: Vanessa Paradis, Kevin Parent, Helene Florent, Evelyne Brochu, Marin Gerrier, Alice Dubois.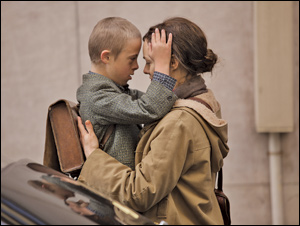 Fresh from its screenings at the recent French Film Festival here in Australia, the beguiling drama Café De Flore receives a limited commercial release. Spanning two different time frames forty years apart, Café De Flore is a mystical meditation on love, fate, and the concept of soul mates. It is also a film about memory, loss, and the ties that bind. Throw in a touch of reincarnation and you have an existential love story that will have many scratching their heads in frustration.
In 60s Paris we meet Jacqueline (Vanessa Paradis, from Heartbreaker, etc), a devoted mother who is raising her young son Laurent (Marin Gerrier), who suffers from Downs Syndrome. Her husband wants to give him up for adoption, but Jacqueline refuses. He leaves her, so Jacqueline raises Laurent on her own. We follow her struggles to cope. But when Laurent meets Veronique (Alice Dubois), a similarly afflicted girl at school, the tight bond that develops between them becomes a source of frustration for both sets of parents.
In present day Montreal we meet jet-setting DJ Antoine (Kevin Parent, making his film debut). But he feels a vague sense of dissatisfaction with his life, and leaves Carole (Helene Florent), the woman he's been with since school, for Rose (Evelyne Brochu), with whom he feels a strong connection. Carole is disturbed by strange, foreboding nightmares, and her dreams mirror Jacqueline's story. What is the connection between these two narrative strands?
Returning to his native Quebec, writer/director Jean-Marc Vallee (the coming of age tale C.R.A.Z.Y, the period piece The Young Victoria, etc) employs a non-linear structure that flits back and forth between the two narrative strands, which many in the audience will find frustrating. The connection between the two stories is vaguely hinted out, although Vallee offers several visual and aural clues. It is not until the startling conclusion that the link is drawn.
As with the earlier C.R.A.Z.Y, music also plays an important part in the story. The title refers to a classic hit song from the 60s and it resonates strongly throughout the film and serves as a connection between the two parallel stories. But Vallee also uses snippets from Pink Floyd's classic Dark Side Of The Moon album as well as music from Sigur Rós and The Cure to link the two strands.
Jacqueline's story is the more compelling of the two strands, and Paradis is excellent as the devoted mother. In his first film role Gerrier is natural, and excellent in a demanding role.
Some will undoubtedly find Café De Flore intensely moving, while others will spend plenty of time trying to decipher its complex structure and enigmatic narrative. This is the type of film you need to see twice in order to penetrate its subtle structure. The film received 13 nominations in the Genie awards, Canada's equivalent to the Oscars, winning three awards, including a well-deserved  gong for Paradis' moving performance.
**1/2