Reviews by GREG KING.
Last updated August 19.
LAST DANCE. Sadiq (Firass Dirani), a suicide bomber takes an elderly Holocaust survivor, hostage in this new Australian drama. Over two days the pair begin to bond as Mrs Lippmann (Julia Blake) overcomes her initial terror and, with a sense of compassion, treats Sadiq's wounds. Last Dance is the debut screenplay from writer Terrence Hammond and it explores some big themes – the legacy of the Holocaust, survival, guilt, family, revenge, terrorism, and the complex issue of the volatile conflict in the Middle East. But Hammond seems to take the easy options rather than try to push the material into a more edgy and controversial direction. Last Dance is fairly theatrical in its staging, and this is essentially a two-handed drama and most of the drama is confined within the claustrophobic space of Mrs Lippmann's apartment. Blake, who is one of Australia's most respected theatre veterans, brings compassion and reserves of strength and resilience to her performance, while Dirani (from Underbelly, etc) manages to make his terrorist sympathetic. Alan Hopgood's well-meaning but nosy neighbour seems more like a caricature. This is the first film from David Pulbrook, a former editor who has worked on films like Hotel Sorrento, etc, and although he handles the material efficiently enough, Last Dance lacks any real sense of tension or danger. Nonetheless it is still a superior example of a local production that should resonate strongly with audiences.
HOLY MOTORS. What we have here is a man riding around town in his white stretch limousine. No, it is not Cosmopolis; rather Holy Motors is an even more impenetrable and incomprehensible piece of cinema that has divided audience and been the subject of mixed critical response since it premiered at Cannes. The Guardian described it as "barking mad," which is probably an apt description of this bizarre film from eccentric French auteur Leos Carax (the drug-addled Lovers On The Bridge, etc). This is Carax's first film since 1999's Pola X, which was a loose adaptation of Herman Melville's Pierre, or The Ambiguities. But it shows the director has lost none of his visual flamboyance and command of cinema lang uage. In a role written especially for him, popular French actor Denis Lavant (a regular in Carax's movies) plays the mysterious and enigmatic Oscar, who is driven to a series of "appointments" by his loyal chauffeur (Edith Scob). Oscar changes costumes between meetings in his luxuriously appointed limousine. He is variously a businessman, an assassin, a beggar, and in the most surreal encounter, he appears as a semi-naked goblin who kidnaps a model (a silent Eva Mendes) in the midst of a photography session and whisks her away to a grotto where he licks her armpits. And Kylie Minogue also puts in a brief appearance and sings a ballad. Even in interviews to promote the film at Cannes, Minogue candidly admitted that she didn't have any idea what the film was about. What is important with Carax's films are the visuals and the unconventional style, not the narrative or details of what it is all about. This is a film about art, and performances, acting and the various disguises we put on during the day. This is an absurd film that will confound and frustrate many, but it will also provoke plenty of discussion amongst cinephiles.
ITALY LOVE IT OR LEAVE IT. This is an entertaining and fascinating documentary that explores life in contemporary Italy. When filmmakers Gustav Hofer and Luca Ragazzi (the documentary Suddenly Last Winter) get an eviction notice forcing them to leave their flat in Rome, the pair are faced with a decision – to find somewhere else in Rome to live or go to Berlin to live. Luca wants to remain in his native country, and tries to convince Gustav of the beauty and positive aspects of Italy. The pair embark on a six-month cross-country journey, exploring the rich history, culture and politics of Italy. But they go beyond the usual postcard beauty and tourist attractions to uncover more about the soul of Italy and its people. They also discover a lot of contrasts between the beautiful aspects of Italy's diverse regions and the ugliness of its corruption and decaying society. Italians may have won 57 Oscars and many Nobel Prizes, but apparently the succession of Italian governments are not too concerned about supporting culture. Garbage has been piled up on the streets of Naples for 15 years, and Sicily is full of unfinished buildings that have been paid for by tax payer money. Berlusconi is on the nose with many people who see him and his sexual scandals as a disgrace. Young people are leaving Italy in droves because of its unemployment, inflation, lack of opportunity. However, there is also an unexpectedly playful tone to the film as the pair talk to many average Italians as well as exploring some of the problems facing the country. Diversions include a trip to visit George Clooney's home beside picturesque Lake Como, which is apparently polluted. The scenery is fantastic, and the film has been beautifully shot by cinematographer Michele Paradisi.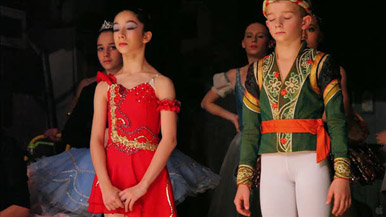 FIRST POSITION. Tutus, tears and triumphs? First Position is a very enjoyable and inspiring documentary about the annual Youth America Grand Prix, one of the most prestigious dance competitions in the world. Thousands of hopefuls try out for prizes including contracts with leading ballet companies and scholarships to some of the top ballet schools in the world. It is a very competitive environment, as the judges are looking for the right combination of body, training, personality, passion, technique and future potential. Former ballerina and first time filmmaker Bess Kargman follows six young hopefuls through the competition, and we gain some insight into their dedication, the long hours spent training, rehearsing and perfecting their techniques, as well as their aspirations and sacrifices. There is also inevitably some disappointments along the way. First Position is a warm and upbeat examination of talented kids striving for their big break and coping with enormous pressure of competition. Eleven-year-old Aran comes from a military family based in Italy and is determined to succeed. Michaela was born in Sierra Leone during the bloody civil war, and was adopted by a white American family who support her dreams. Joan Sebastian pursues dance as a way of escaping the poverty and lack of opportunities back home in his native Columbia. Sakoto is the mother of both Jules and Miko, and is obsessed with having her children succeed. A telling moment comes when Jules admits that he doesn't particularly like ballet but is only doing it to please his mother. Kargman balances the individual journeys beautifully, and suffuses the film with an element of suspense as it leads up to the make or break Grand Final in New York. This is an emotionally engaging documentary that explores a number of touching human stories with compassion and unrestrained joy. Fans of classical dance will certainly enjoy First Position. But it has enough to appeal to the casual viewer as well.
DEAD EUROPE. The first fiction feature film from Tony Krawitz (The Tall Man, etc), Dead Europe is an adaptation of the 2005 novel by Christos Tsoliakis (The Slap, etc). Following the suicide of his father, Sydney-based photographer Isaac (theatre actor Ewen Leslie) decides to return the ashes to his ancestral homeland in Greece. But his journey reveals some dark secrets about his father's history and a supposed curse, and the reasons behind his family's exile. As he tries to unravel the dark and troubling secrets of his father's past life Isaac travels from Greece to Paris to Budapest. Isaac also meets the troubled Josef (Kodi Smit-McPhee), an illegal refugee in hiding, and tries to rescue him from his harsh environment. Isaac also catches up with his estranged brother Nico (Marton Csokas), and is drawn into an underworld of pornography and sex slavery. This is a bleak and dark vision of contemporary Europe in crisis. Dead Europe explores themes involving death, family secrets, the ghosts of the past shaping the present, the inherent racism and anti-Semitism of Europe, the nature of guilt, and the sins of the father being visited on the son. Krawitz brings an outsider's perspective to his vision of Europe, and shows us visions of cities that are rarely experienced by the average tourist. You can almost feel and smell the physical and moral decay of the place. This dark and disturbing drama has a suitably grimy visual surface and a slowly mounting sense of dread. There are a couple of confronting scenes. Cinematographer Germain McMicking uses handheld camera and works in close-up to disconcerting effect.
GOLDEN SLUMBERS. In the 1960s and early 70s Cambodia had a thriving film industry that produced some 400 films. But when the genocidal Khmer Rouge regime came to power in 1975 they believed that filmmakers and actors were enemies of the people, and closed down cinemas and virtually destroyed the industry overnight. Directors, producers and actors were executed, and the films left to rot. Very little of the films produced in that time have survived. French-born filmmaker Davy Chou is the grandson of Vann Chan, one of the legendary Cambodian film producers, and he heard stories of the industry from his mother. Chou returned to Cambodia in 2010 to make this documentary looking at the fate of the film industry. The biggest problem he faced was how to tell the story of a film industry when there was no film footage to show. Chou found a solution to this dilemma. He has tracked down some of the few surviving veterans of that era, including actress Dy Saveth, who talk of their experiences and detail the plots of some of the landmark films. Many songs from those films have also survived, and Chou samples them to add colour and an air of nostalgia to his documentary. None of the cinemas from that era exist; they have fallen into disrepair or have been converted into karaoke bars, markets, or even squalid housing for the dispossessed. Hanging heavily throughout the film though is the knowledge of the country's recent bloody history. Golden Slumbers is a poignant documentary that offers an insight into a forgotten film industry that is only now starting to emerge from the shadows.
THE ANGELS' SHARE. Robbie (newcomer Paul Brannigan) is a troubled youth trapped in a cycle of poverty, unemployment and violence. About to become a father, he has been sentenced to 300 hours of community service following a brutal drug-fuelled attack. He is forced to work as part of a gang of similarly troubled youths cleaning up cemeteries and old buildings around Glasgow. But when his supervisor Harry (John Henshaw) introduces him to the world of malt whisky tasting, Robbie hatches a scheme to steal a cask of rare whisky from one of Scotland's top distilleries. The Angels' Share is a wonderful new whimsical comedy from veteran director Ken Loach, a politically-minded socialist director who normally wears his social conscience on his sleeve. Written by his usual collaborator Paul Laverty, The Angels' Share is a genuine crowd pleaser from Loach. The first half-hour is typical Loach, a bleak drama exploring the anger and the social problems facing much of Scotland's youth today, before it settles into its rhythm. The humour takes the edges off the early dramatic stuff. The naturalistic dialogue is both frank and funny, although the thick accents take a bit of getting used to. Robbie turns out to be a far more complex and sympathetic character than we first thought, and Brannigan's youthful performance is superb. The cast of largely unknown performers brings enthusiasm and authenticity to their roles. The Angels' Share is thoroughly enjoyable, and easily the most entertaining film Loach has given us in a decade.
HAIL is the first fiction feature film from documentary maker Amiel Courtney-Wilson (Bastardy, etc), and it follows the efforts of a recently released prisoner to go straight and get his life back on track. This may be a familiar sounding story on the surface, but it is what Courtney-Wilson does with the material that sets it apart. This semi-fictitious film is based on the real-life experiences of Daniel P Jones, who plays himself here, a former prisoner. Courtin-Wilson has known Jones for several years, and the pair collaborated on the harrowing, Oscar nominated short film Cicada. Although the early sections of the film deal with Daniel trying to re-integrate himself back into society and gain employment, by the end it has become a fairly brutal and ugly variation on the vigilante genre. But the film itself is far from successful. Courtney-Wilson is a very visual filmmaker, and cinematographer Germain McMicking works in extreme close-up with lots of shaky handheld camera work here. The pretentiously arty shots and visual flourishes are sometimes jarring and visually ugly, and they unnecessarily stretch the thin material. Hail is intense and uncomfortable viewing, and the film will become something of a trial for many. Some of the dialogue also seems improvised, and is delivered in tentative fashion by the largely inexperienced cast, most of whom are making their film debuts here. Jones has a commanding screen presence and is utterly convincing as the volatile criminal capable of moments of extreme violence.